Italian workshop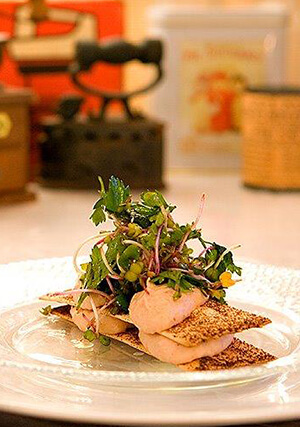 "Mama Miya…Santa Lucia…" That's the way our teacher used to shout on us - the students on the seventh grade (in high school), when we were annoying her.
who among us doesn't love Italian cuisine? could anyone reject any of the million types of pasta? and all those amazing sauces?
can you resist a crunchy pizza or focaccia-both represent winning combination of tender dough and crispy skin. this Italian flag caprese salad with freshly cut tomatoes served with mozzarella cheese, basil leaves, olive oil and balsamic vinegar; sweet parmesan; prosciutto from Parma served over moon slices of melon etc.

for all of those ideas chef erez stern built a special Italian cooking workshop. the course focuses on Italian cuisine, but taught and integrated within it many elements and knowledge for cooking technics. yet, in an effort to pass in a substantive and balanced manner the complexity of the products, their flavors, their aromas, and their textures of Italian food and seductive presentation.

the overarching goal of the workshop is to build confidence among the participants. at studio chef - erez stern, we try to prove that Italian cooking is fun and easy for all, - dependent on the skills of each cook but is also open for improvisation and creative ability.

we would like to welcome you in our other workshops such as the ethnical courses of Asian, French, Spanish, or American. as well as our theme workshops such as the fish and seafood, meat and poultary, vegetalbles or multi workshops of sweets course.

the Italian workshop takes between 4 to 5 hours time, including the sit-down dinner. at studio chef - erez stern we do not deal with gathering of individuals or couples but we rather handle group of minimum eight participants in a workshop, and up to 20 participants.
the Italian cooking workshop is estimated at the cost of 600 USD for a group of eight.

at any time, flexibility for client's wishes and demands are the name of the game at studio chef – erez stern. the issues in the recipes that follows are only suggestions, and they can be changeable upon demand.

our workshops are divided into three sections:
1/ gathering and acquaintance while the chef passes general information and presentation of the workshop to be executed.
2/ practical work is either frontal work of your private chef (instructor) in front of the participants in an open kitchen where everyone can look and see all cooking procedure, Or alternatively, "hands on workshop" where the participants physically work, cook and perform the kitchen tasks.
3/ sitting to the table, enjoying the fruits of the work done in the kitchen by the participants.
for your convenience we added two videoed recipes: the first one with Mario Batalli making gnocchi in butter squash-tomatoes sauce. the other one you'll be able to practice a venison ravioli.
A classical Italian menu workshop
at studio chef erez stern
A selection of vegetables Anti Pasti for starters
*****
Risotto
Making fresh pasta with a sauce or two
*****
Osso Bucco made of Lamb/Chicken/Beef
*****
Rich Tiramisu with Choco powder on top
so how can we finish presenting Italian kitchen without at least, one opera song by Gioacbino Rossini. with baryton Dmitri Hvorostovsky singing about Figaro from the barbar of Seville. we are also delighted to find the Italian symphony by Mendelson can match perfectly our workshop.